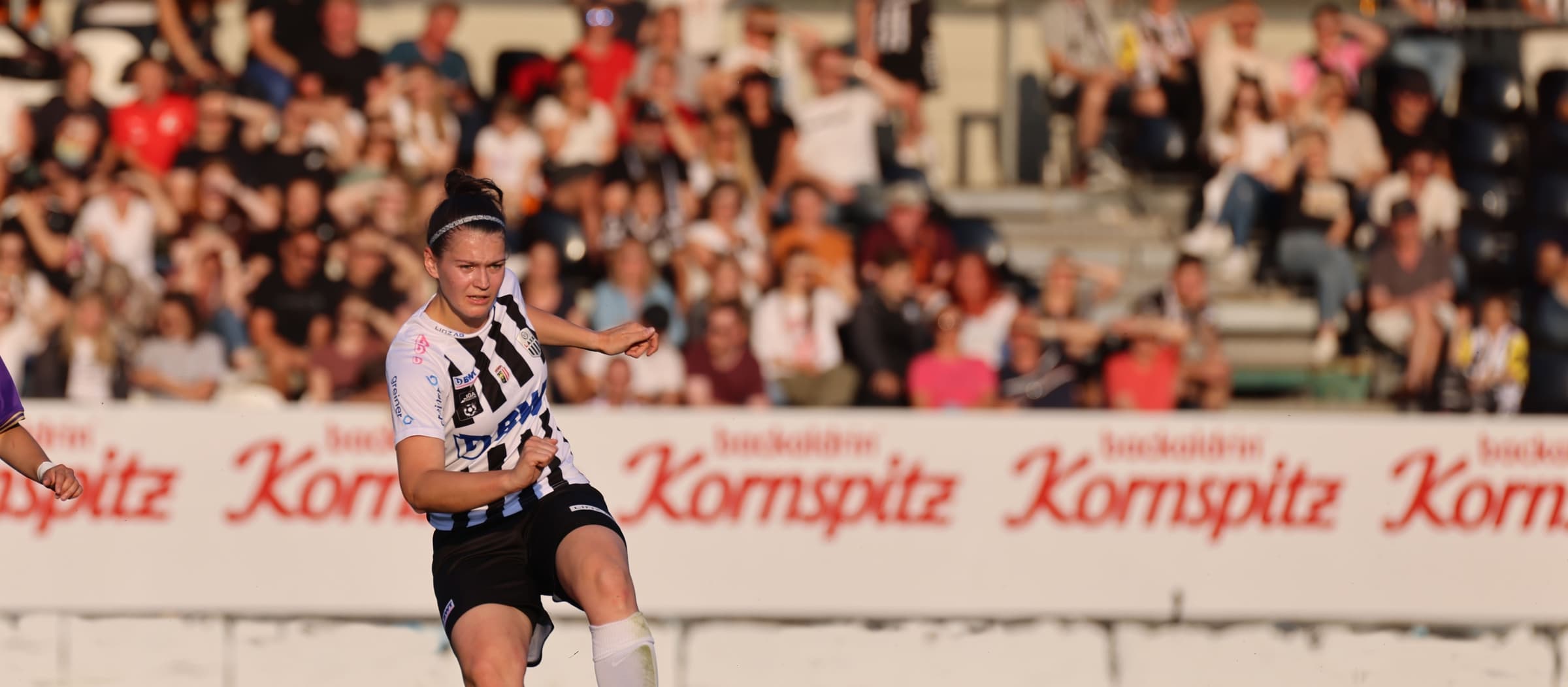 6/16/2023
Grand Final in Graz
On the upcoming Sunday, June 18th, the time has come for our Black-and-Whites to visit GAK in the final and crucial relegation match (4 p.m., Sportcampus Graz-Weinzödl). LASK has gained a favorable position with a 7-0 opening victory against Austria Klagenfurt and can secure promotion with a win.
THE SITUATION
In the opening match of the promotion relegation, LASK made a strong statement with a 7-0 victory over Austria Klagenfurt. Tea Krznaric put Schwarz-Weiß in front in the 8th minute. Captain Katharina Mayr and Katarina Pranjes extended the lead to 3-0 before halftime. After the restart, Jana Kofler made it 4-0, and Lisa Feilmayr, showing her return to form for the Athletikerinnen in only her second competitive match after injury, scored a flawless hat-trick.
Thus, the prospects for the match against GAK are promising. A victory against the Reds would directly result in promotion to the second league.
In the case of a draw, LASK would still need assistance from Klagenfurt in the third relegation match against GAK – goal difference would be decisive, with the Graz team not allowed to win by more than six goals.
In the event of a defeat, Schwarz-Weiß would have to rely on a victory for Austria. Goal difference would also be crucial in this scenario.
However, our Athletikerinnen will do everything in their power to secure promotion in the grand finale in Graz.
The Opponents
The paths of the two teams have not crossed until now. The last encounter between the men's teams took place over a decade ago. Black-and-white football enthusiasts may still remember: GAK and LASK faced each other on October 27, 2012, in the Regional League Mitte. LASK emerged victorious with a 6-2 scoreline in Graz.
GAK remained undefeated throughout the entire 2022/23 season, securing 21 wins and one draw (2-2 against USV Seckau, note) from 22 league matches. The goal difference is equally impressive: 132 goals scored against only 13 conceded. A significant contributor to this success was the top goal scorer of the Reds, Christina Siebenhofer, who netted 26 goals. It is noteworthy that GAK was promoted to the Styrian Regional League just a year ago and literally marched through their inaugural season. The Graz team also claimed the double. On Thursday, June 8th, they defeated UFC Hof/Straden 4-1 in the Styrian Cup final. Excitement is certainly guaranteed in Styria.
"
We need to bring the same energy and power to the field as we did against Austria Klagenfurt. Away from home, we might need a few more percentage points. We want to crown the season and reward ourselves with promotion.
Benjamin Stolte, Head coach